I have been away from serious blogging since many months and I apologize for that. The thing is I have been preoccupied with health issues, my book release and two big events that brought absolute joy to me.
First was the wedding of my elder son Aditya   to his girl friend Snigdha. Beautiful, talented and compassionate this daughter of mine is like sunshine on a rainy day. I had loved her from the day we first met some years back. Something had told me that this was going to be a bond for life for these two. It is a beautiful feeling to see the strong threads of friendship in a marriage. Rest everything is superfluous.
I never liked the statement, "they complete each other". I think both of them are complete and fractured in their own way and respect that. For me this is the basis of any good relationship.
It is a perfect match and I am very happy for these two young adults starting a new chapter in their life. I am sure with Snigdha on his side my son will continue to grow into a better version of himself each day. He is a sensitive, caring boy fiercely independent yet very giving and exceptionally talented. Just needed someone to rein his wild temperament a little and all is well 😉 . These kids deserve all the awesomeness in the world.
Did I tell you she's an awesome poet apart from being a very fine journalist? Well, now you know. I have been nagging her to publish her poems. She is way better than me and needs to be read.
The wedding was nothing too ostentatious. I do not believe in pomp and show with people dressed up like Christmas trees exchanging pleasantries for the sake of it. The simple sobriety and intimacy of the occasion was what made it memorable. With the melodious sounds  of shabad floating in the air the whole atmosphere was beautiful beyond words. The reason I love Sikh weddings are many. It is a short ceremony, happens in daytime and there are no long dragging rituals.  The Anand Karaj ceremony is one of the most beautiful wedding ceremonies I have ever witnessed and I am glad we opted for that.
The interesting fact is that this union was in line with the tradition of 'love marriages' my side of family has, beginning with my maternal grandparents. You choose your partner for life and are responsible for the consequences. 😀
We are also slowly becoming a very fine example of  cross culture family in the true sense, leaving behind the shackles of caste, creed, religion etc.  You get to know different cultures, eat different food, learn different languages and it is such a good cocktail of happiness even with the problems it brings at times.
In this case the 'meeting the parents' happened much later than 'meeting the girl'. Like always the moment my son began dating her I was one of the first to meet. Not for so called' approval' but to break the ice and for us to know each other better. A fellow Mirandian, a poetess, a girl who loves to travel, read, is fun to be with and is highly balanced and focused in life, she can talk with just rolling her large eyes.. finally I have someone with whom I can gang up against the brats..oh the joy of having her as part of the family are many.
Meeting her parents extended my faith in 'friends are the family you choose' . By the time the couple were engaged to be married we were already partying hard. I was happy because my son was.  He had been through some of the hardest times a child has to go through for no fault of his and to see him beaming with happiness was the only thing that mattered. This coming together of two families gave me strength too but that is another story for another time.
Overall, it was a fun wedding where the close family and best friends spent the time of their life along with the gorgeous couple.
The newly wed had a great time and so did we. It was a celebration with a difference though like a true blue Punjabi wedding we had the dhol, bhangra and over loading of food and booze. 😀 And of course the DJ (a friend of my son in this case, the fact that he is a celebrity is a different matter all together) churning out the apt songs for the occasion.  We made the best memories together with so much love and craziness. The task force behind the entire celebration were the fantastic friends of the Snigdha, Adi and Shubhang, the kid brother. Without them rang pheeka reh jata. They made the fuctions come alive. Such energy and joy… irreplaceable.
Indian weddings are huge projects with a deadline one can not surpass and if there is no masala in an Indian wedding it didn't happen. So, we debated, argued, threw tantrums and had bouts of emotionally charged episodes with tempers flaring and tears flowing.
I do not have much of an experience of wedding planning as my own marriage was a quick simple affair but this one was an overwhelming experience. Stepping away from the traditional, ritualistic customs and doing away with a lot of stuff that made no sense whatsoever except for an overload of expense and waste of time wasn't easy.
At many points in this adventure I was convinced we're going to screw up in a big way. Even the groom was certain there would be a disaster. We ranted, glowered, decided to part ways and all that. We were worried, tired, clueless about many things and behaved like jerks, myself included. There were long telephonic discussions, arguments over guest lists, outfits and unlimited shopping expeditions. The fact that we were based in three different places in the city wasn't helping much and to top it I fell sick. But,  I am a sucker for emotions and to see my first born getting married was too much to joy to handle. On one hand I was jubilant and on the other his entire life flashed before my eyes like a movie, turning me into a sentimental wreak.
It was insane. The bride's side had meticulously planned even the minutest detail and we were in disarray to the point of being hilarious but we survived.
For years I would be very scared and spent sleepless nights wondering if our broken home will bring the unfortunate stuff people said it would, would I fail in the end as a mother, as a friend, as a pillar of support I always tried to be but as it turned out there is a power in being true to oneself and doing what is right. In believing in oneself and one's children, in listening to them and understanding them as individuals.
Even in the times of raging wars we are one and love each other unconditionally. The boys have outgrown my lap but not my love and that keeps us afloat even in the strongest of storms.
Kid 2 has started a new job and is living his life on his own terms. I wish him well for that he aspires for. Now, with his best friend, an elder brother who practically raised him up in the most crucial years of life when I was away, settled in his new phase of life, I know he will feel the void but that is what growing up is all about. Physically we may be away but there for each other always.
Don't they look gorgeous? 🙂 #kalatikka These precious moments will stay with me forever.
The newly weds are back from their travels and already back to work. I wish them a life full of love and adventure.
Now,  let us get back to poetry, blogging and a very special award that I won.
2017 marked the tenth year of Indiblogger and my association with them entered its ninth year and what a fabulous journey it has been. Indiblogger is a credible platform for bloggers who wish to showcase their work and a recognition from them is highly cherished.
When they announced the nomination for Indian Blogger Awards #IBA2017 I was slightly hesitant to nominate my blog as I hadn't been posting much of poetry lately but ten years of blogging nudged me to at least nominate, perhaps to get more readers if not anything else.
There were 3500 nominations across 117 categories. Not in my dreams I had thought that I will win the special #VOW award for poetry.
The awards were announced at a very interactive blogging conference #BNLF2017 at Dehradun in November and were judged and given in association with Valley Of Words Literature Festival.  
This award is very special to me not just because it validates my hard work but also because it came just two days before the release of my second book of poetry 'Wayfaring'.  I couldn't be there at the ceremony so the team requested for a short acceptance video which I finally managed after hundreds of retakes, that's how challenged I am technologically. 😀
Here's the lovely poster indiblogger team made for the winners.  I would like to thank them for the commendable work they are doing by bringing the Indian bloggers at one platform from across the globe. Thank you to my readers, those who voted and the esteemed jury. We Blog. Therefore We Are.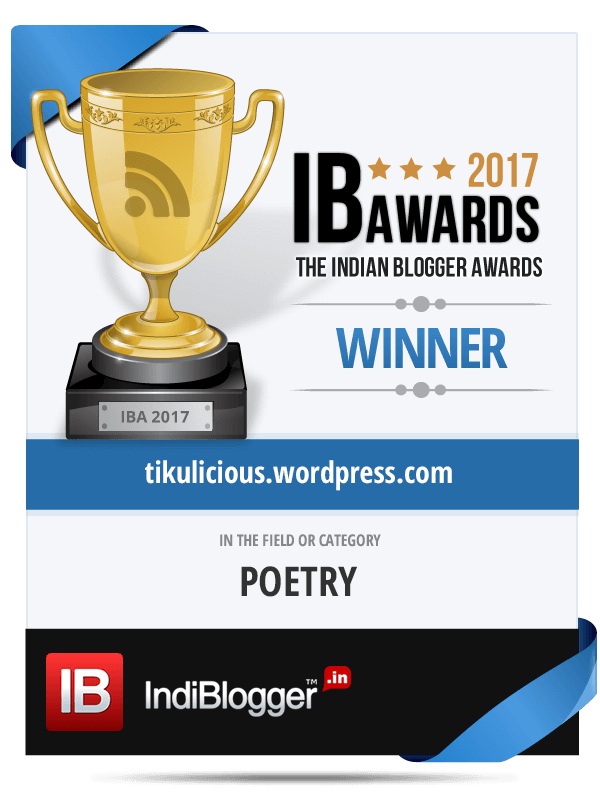 I also received Google Chromecast as a gift from the Inditeam on winning the award. Now waiting for the certificate and trophy if that happens. 🙂
In another news, the praise for my poetry books is pouring in.
My debut book Collection Of Chaos reached a reader in France and she posted this beautiful message on FB. She is reading the second one too and I am eagerly waiting for her feedback. Thank you Anne for your kind words.
Common Wealth Prize-Winning Author, film maker Siddhartha Gigoo. chose his most interesting reads of 2017 for a HT feature  and I was pleasantly surprised to find my new collection Wayfaring in the list. What a joy to find a media mention within a few weeks of the release.
He also reviewed it on amazon bringing the much needed cheer in my life.
Thanks for appreciating Siddhartha.
Keep me updated if you buy any of my books. Reader's feedback is very essential for the growth of a writer.
Here's to poetry and other adventures of life. I will try to keep the blog afloat with regular posts. Keep visiting and do leave your comments.